"SLB" series are "Small Lithium Titanate Rechargeable Batteries" suitable for IoT and wearable applications
which utilize lithium titanate (LTO) for the negative electrodes, realizing
(1) Long life of more than 25,000 charge/discharge cycles
(2) High-density input/output approaching electric double layer capacitors (EDLCs)
(3) Capable of charging at low rate using energy harvesting
(4) Low temperature characteristics enabling operation even at -30 ℃
(5) Extremely low possibility of explosion or ignition even when used under harsh conditions
Introduction Video of Small Lithium Titanate Rechargeable Batteries (03'00")
Features Video of Small Lithium Titanate Rechargeable Batteries (01'30")
DEVELOPMENT BACKGROUND
Small Lithium Titanate Rechargeable Batteries that achieve both high power density and high energy density
have been developed by using SCiB™ technology of Toshiba Corporation.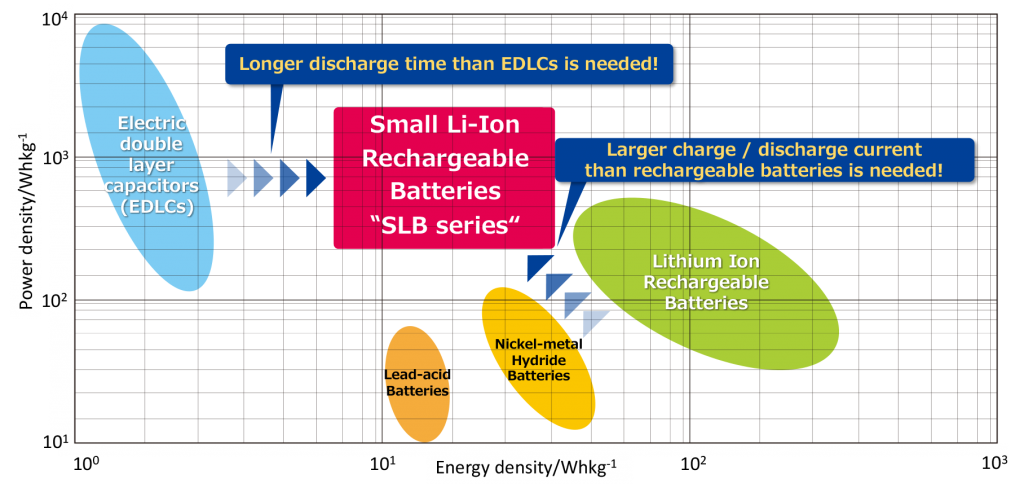 CHARACTERISTICS
01
Long life
Maintain a capacity of at least 80%
after 25,000 charging/discharging cycles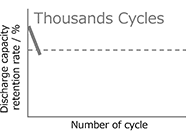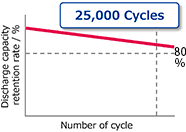 02
Rapid charge/discharge
High input/output density approaching
electric double layer capacitors (EDLCs)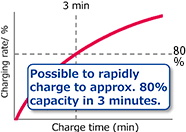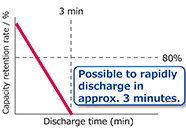 03
Low charging current
Capable of charging at low rate using energy harvesting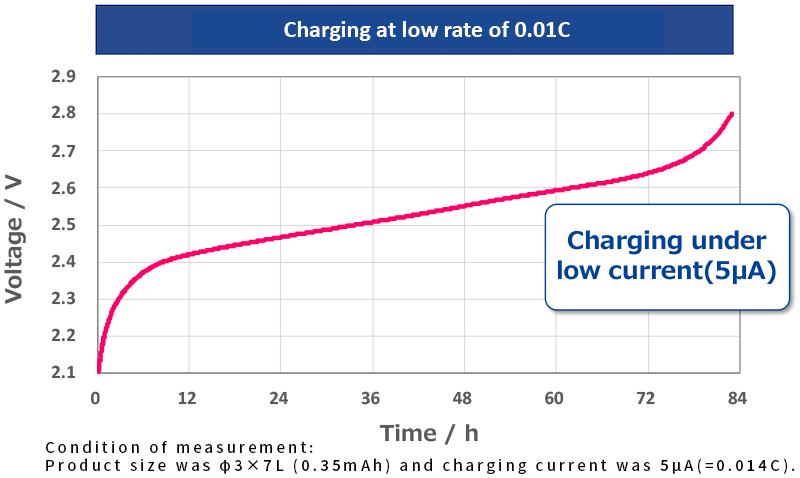 04
Low temperatures
Possible to use in cold regions (-30deg.C)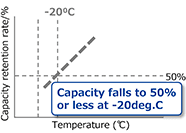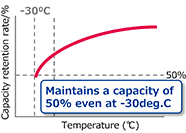 05
Safety
Extremely low possibility of explosion or
ignition even when used under harsh conditions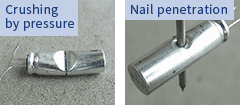 Extremely low risk
of rupture or
ignition
and high safety.
φ12.5 Crush test video (00:17)
φ12.5 nail penetration test video(00:23)
APPLICATIONS
IoT Devices / Wearable Devices / Electronic Cigarettes / Wireless Earbuds / Backup Power Supply / Stylus Pen / Toy
FREQUENTLY ASKED QUESTIONs
The lithium titanate battery (LTO) shares many characteristics with the lithium-ion battery. One difference is the LTO anode. An LTO battery uses lithium titanate oxide, while a lithium-ion battery uses carbon. By using lithium titanate, the battery has a significant performance improvement.
The SLB is a battery with long leads, just like a standard capacitor. The leaded profile allows for soldering directly to the circuit board using hand soldering or a select solder technique. Lithium Titanate batteries require an additional mounting bracket or holder placed on a circuit board. The Nichicon SLB (LTO) take less board space allowing them to be used in very compact or densely populated circuit boards.
LTO batteries are safer; they have an extremely small risk of ignition if there is a short. The SLB, Nichicon's LTO battery, has superior charge and discharge capabilities, such as a 20C charge rate. Even higher rates are possible with pulsed discharges, like those used in telecommunications.
'The SLB can withstand up to 25,000 charge/discharge cycles and have a lower cold temperature rating than a lithium-ion battery. And its low internal resistance allows energy harvesters to charge with weak currents without loss. They will not ignite if a short occurs. In addition to the advantages previously mentioned, the SLB comes in aluminum electrolytic case styles and size.